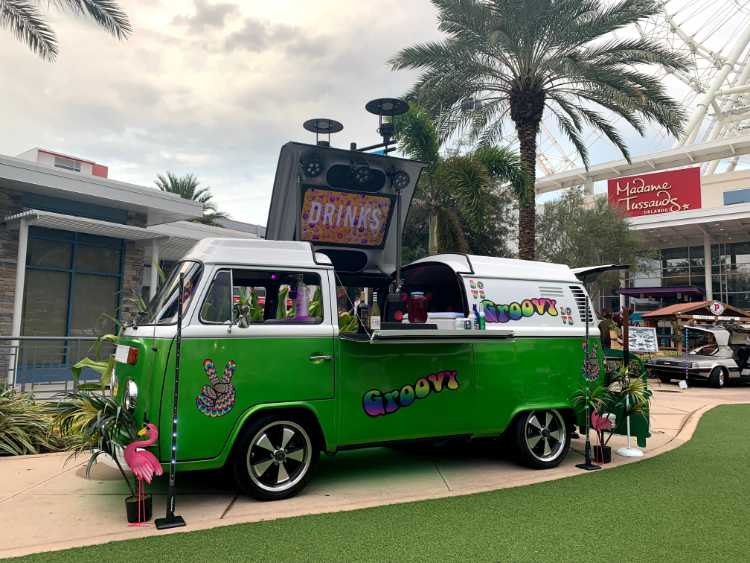 New VW Xtreme Party Bus – Volkswagen DJ Vehicle
Peace, Love, Music in one groovy, interactive DJ vehicle.
 Meet Mix on Wheels' VW Xtreme Retro Party Bus! 
Contact Information:  Mix on Wheels | info@mixonwheels.com | 407-490-5757

October 15, 2019 – Orlando, Florida – Experience Music in Motion to the next level of innovation, as the original DJ Vehicle company – Mix On Wheels has expanded its fleet of extreme vehicles to now include the VW Xtreme Retro Party Bus. Painted in an eye-catching, sleek mojito green, this vintage bus is already a fan favorite!

Lead Innovator and Company Founder/Owner, Charles Miles, says he came up with the idea to add such a unique vehicle to the portfolio in an effort to reach all ages: "From baby boomers to millennials, the bus brings smiles to all ages!" But the innovation doesn't stop at bringing a vintage bus into the party scene – this mobile entertainment vehicle packs a big punch! This party bus doubles as a photo booth, a bar, a sound system, LED lights and built-in big screen TV – it can also accommodate a DJ with any style of music playback, to take your party to the next level!
The possibilities are endless! The VW Xtreme Retro Party Bus, which Miles' lovingly dubbed "Cher", is self-contained; capable of providing audio, video, lighting and more with its own power while meeting regulations for both indoor and outdoor events! Even the little details have been carefully considered in this party bus – the photo booth is capable of printing on-site and also sending digital copies to your phone via text! Discover all the amazing features via our Youtube video.
The beauty of this party bus is the versatility of the design: it can be themed from a 60's groovy theme party to a radical beach party safari or a fun Latin soiree. A beverage bar, coffee or dessert station are other ideas for incorporating the vehicle into your next event. Our favorite idea is maximizing the possibilities in events such as an upcoming "Woodstock" themed party! At this costume party, the party bus will be decorated with groovy retro design magnets, a mash-up video of Woodstock classic footage will be looped on the screen and themed cocktails will be served!

Not unlike the other vehicles in Miles' fleet, such as the Mini Cooper MCX and Hummer H3X, the VW Xtreme Retro Party Bus is sure to turn heads with its show-stopping capabilities and unique design. But what this vehicle offers is different than its counterparts in both style and some specifications. You can read more about all of the vehicles offered at www.MixOnWheels.com. 
ABOUT MIX ON WHEELS
Headquartered in Orlando, Florida and available for events nationwide, Mix on Wheels is an all-inclusive mobile entertainment service featuring a DJ booth, lights and sound system that is fully contained in each of its Mini Cooper MCX, Hummer H3X, Honda E2X, VW Xtreme Party Bus, Jeep JPX, Tour Xtreme and Xtreme Party Truck – the  "Xtreme Vehicle" fleet. The company is spearheaded by Charles Miles, a veteran entertainer, and entrepreneur who has reinvented the way people celebrate. Mix on Wheels actively works with companies and top brands to deliver innovative entertainment and audiovisual promotional solutions to connect to their guests and target markets. Mix on Wheels' self-contained mobile DJ entertainment vehicles is a creative solution for theme parks, corporate and social events, festivals, marathons, roadshows, trade shows, radio stations, and experiential marketing.