During the hottest months in the state of Florida, the Mix On Wheels crew hit the road to bring their one-of-a-kind mobile DJ experience to business friends and partners around South and Central Florida areas. We stopped at numerous event venues, meeting planning companies, entertainment partners and corporate client offices to show-off our HOT and Chromed-Out, Honda Element Xtreme (E2X)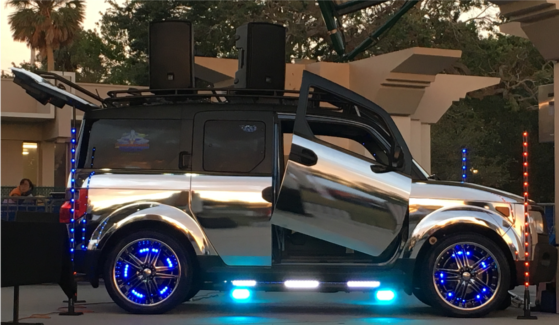 Upon our arrival at each location, our Mix on Wheels DJ would set up the E2X just outside the building where our marketing team was giving a brief and thorough presentation about our company and our fleet of mobile DJ vehicles. After the meeting inside was over, everyone was invited outside to experience the Mix On Wheels DJ Vehicle experience for themselves.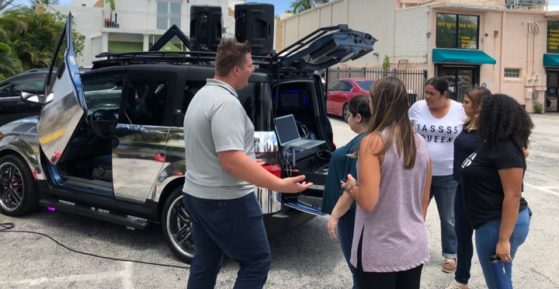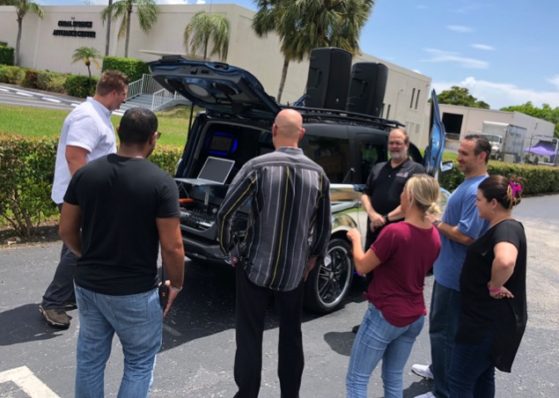 As each guest walked toward the vehicle, our DJ turned up the music and everyone took out their cell phones to snap their first of MANY pictures!  The built-in LED lights were flashing and we even had their individual company logo displayed on the LCD TVs too.
To put it lightly, everyone was "xtremely" impressed!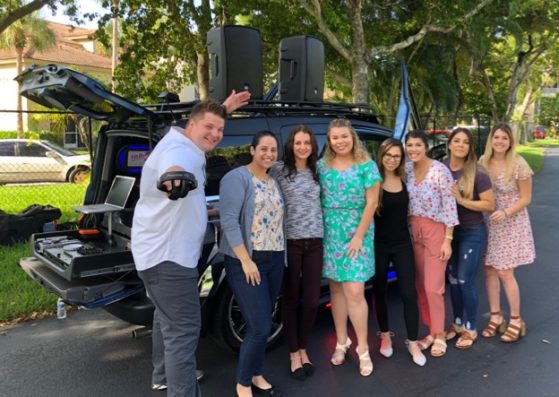 Jennifer W., a producer for a national DMC, emailed us after our visit to let us know how much her team really enjoyed the visit. "It was extremely beneficial to see it in person, as it allowed us to see that what you 'claim' it to be on your website and other collateral is true and accurate. Seeing it in person allows us to be creative in our mind and imagine it at an event. Just reading a website can be redundant, so great job bringing it into our office!"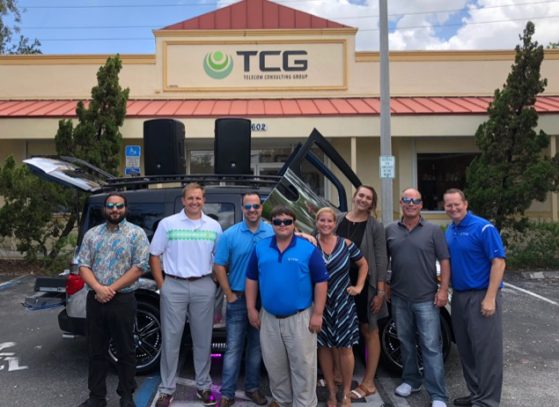 But that is not where the excitement ended!  We actually had strangers from other businesses and buildings nearby leave the comfort of their own air conditioned offices to come outside to see what was going on!  At one stop, a stranger who was driving by actually made a U-turn so he could check out our SHOW-STOPPING mobile DJ vehicle.

That says A LOT!
While visiting another office in South Florida, Gina S. told us that our EX2 (Honda Element Extreme) was "a great different DJ system that is unique and adds that extra WOW factor for all types of events!"
     
If you think Mix On Wheels is your ordinary DJ service, THINK AGAIN!
Mix On Wheels continues to be the ultimate showstopper at all types of events!
With so many ways to entertain and customize the Mix On Wheels mobile DJ experience for client excitement and branding, you can hit the brakes on your search for entertainment for your next indoor or outdoor event.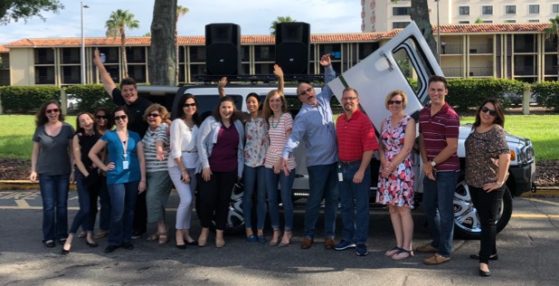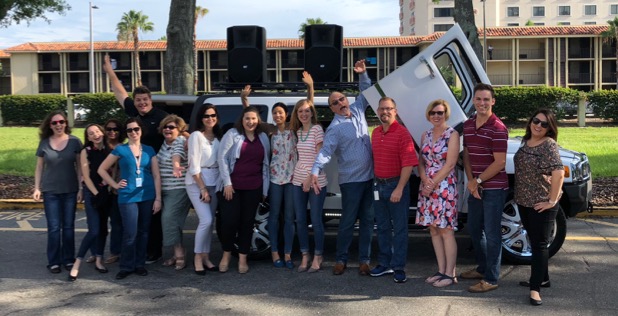 Every celebration deserve a jaw-dropping, throw-it-in-reverse experience so you need to make Mix On Wheels a part of your event! Not only will we bring the music and the magic, but we will provide you with the most memorable experience that your guests will remember the best!
---
WE'VE GOT THE PARTY PACKED UP AND READY TO ROLL WITH OUR SELF-CONTAINED MOBILE DJ VEHICLES.
JUST GIVE US A CALL AND WE WILL BRING THE XTREME PARTY DIRECTLY TO YOU!
Corporate Events | Social Events | Tradeshows | Sporting Events | Tailgates | Festivals | Food Truck Events | Parades | Concerts | Experiential Marketing | Product Launches | Grand Openings | Roadshows | Marathons | School Events | Weddings | Mitzvahs | Quinceañeras | Anniversaries and more..
Follow us everywhere!