With our very first #WheelsUpWednesday look under the hood at Mix On Wheels, we wanted to introduce you to the founder, the owner and the mastermind behind the mobile DJ vehicle entertainment ingenuity, Charles Miles.

When partnered up with a major Central Florida theme park and a well-known soft drink company to promote a once-in-a-lifetime, exclusive youth party, Charles' creative DJ juices started to spark!  Day after day of setting up and tearing down extensive DJ equipment gave him an idea.  "I should create a 100% self-contained, all-inclusive, jaw-dropping mobile DJ vehicle entertainment experience, on wheels, that can be used for indoor and outdoor events."

And Mix On Wheels was born!
Charles knew that this idea of creating a mobile DJ vehicle entertainment experience had to grab the attention of eyes and ears near and far. This entertainment vehicle needed to be a total show-stopper and 100% WOW factor!  In 2008, after months of brainstorming, research and several design concepts, Charles' vision came to life with the Hummer H3 Xtreme (H3X).
While fabricating his first mobile DJ vehicle entertainment system, Charles spared no expense.  He installed the most hi-tech, state-of-the-art professional sound system and DJ gear right into the vehicle, adding extra speakers to be used in larger crowds.  Specially designed LED lights were installed inside and out. He even connected daytime/nighttime LCD monitors for custom logo and/or video playback.  For added versatility, Charles made sure that the vehicle was built to meet all Fire Marshal codes which enables the mobile DJ vehicle to be used at indoor and outdoor events.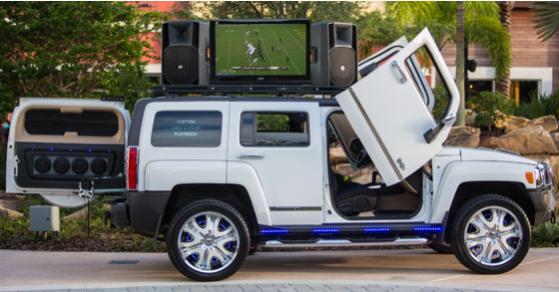 Soon after the sporty, classy and inventive H3X was launched, business skyrocketed and Charles knew he was on to something incredible and saw a wide-open road ahead. He decided to develop another mobile DJ entertainment vehicle with a glossier, flashier, more eccentric look; and the Honda Element Xtreme (E2X) was born. On its heels was the compact and edgy MINI Cooper Xtreme (MCX).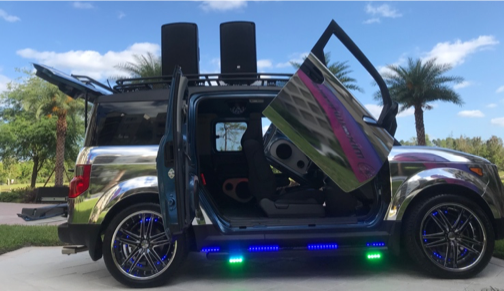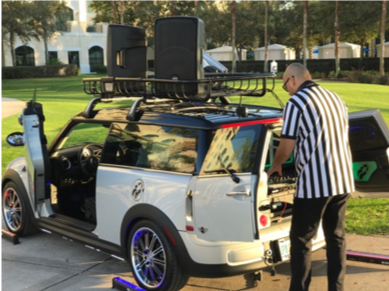 With three DJ vehicles in his fleet, Charles was now able to give his clients with the ability to choose a mobile DJ vehicle that would fit best into the style of their event.

Today, the fleet at Mix On Wheels consists of 5 Xtreme vehicles and all can be custom logo branded with vinyl stickers or full vehicle wrap for brand marketing and/or sponsorship opportunities:
MINI Cooper Xtreme (MCX) | 

Honda Element Xtreme (E2X) | 

H3 Xtreme (H3X) |


Jeep Xtreme (JPX) | 

Xtreme Party Truck (XPT)
MixOnWheels offers additional DJ services such as a Touchscreen DJ system, a DJ Laser Cage, Karaoke, Party Dancers, Photo Booths and more.
Our DJ's are multi-lingual (English Spanish, Portuguese, etc) and specialize in all styles of music. We will even help you create a custom music list that will be perfect at your event.

As a preferred vendor at Disney and Universal Studios, we are headquartered in Orlando, FL and we travel to events nationwide.
Our mobile DJ vehicle entertainment systems have been providing DJ services for all types of events:
Corporate Events | Social Events | Tradeshows | Sporting Events | Tailgates | Festivals | Parades | Concerts | Experiential Marketing | Product Launches | Grand Openings | Roadshows | Marathons | School Events | Weddings | B'Mitzvahs | Quinceañeras | Anniversaries and more…
We've got the party packed up and ready to roll in our mobile DJ vehicles.
Just give us a call and we will bring the Xtreme party to you!